24 hours a day, 7 days a week
About Gam
NATIONAL MUSIC CONSERVATORY (NMC)
NATIONAL MUSIC CONSERVATORY (NMC)
With a vision for educating and training skilled musicians, the NMC assumed its duties in 1986 with an initiative from Her Majesty Queen Noor. Since then it has practiced a leading role in up-grading the level of music appreciation, awareness and promotion of art music in broad sectors of the local community. The NMC has also established close ties with local and international music organizations. The NMC now enjoys a prestigious position in the various local, Arab and international arenas.
It was clear from the beginning of the NMC's programs that founding a student orchestra would be the best way to provide an opportunity for young people to develop the necessary skills in ensemble playing. Common to all of the best orchestras in the cultural capitals of the world, faculty members of the NMC recognized that the orchestra should be the best place to challenge students to meet the standards of technical excellence and musicianship.
The NMC is one of the educational and cultural projects of the King Hussein Foundation concerned with providing music educational and cultural services for the community and does not seek profit in adherence to the charitable and humanitarian character of the mother Foundation.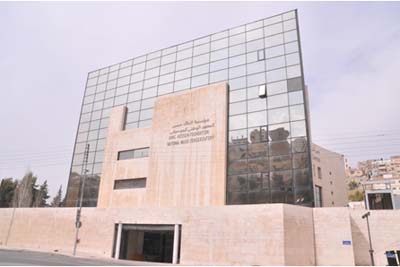 AMMAN SYMPHONY ORCHESTRA (ASO)
Amman Symphony Orchestra was created from the nucleus of the Orchestra of the National Music Conservatory (King Hussein Foundation). With the sponsorship of Greater Amman Municipality, the orchestra performed its inaugural concert in January 2007.
Amman Symphony Orchestra adopts the same standards of excellence adopted by most prominent orchestras of the World. A jury of international expert musicians auditions all orchestra members to evaluate their performance levels and to rank them accordingly before the beginning of every cultural season; a step which ensures the continuous progress of the Orchestra.
Amman Symphony Orchestra has planned an annual schedule of performances held on the third Wednesday of every month. The resident conductor of Amman Symphony Orchestra is Mohammed Uthman Sidiq. However, a number of prominent visiting conductors and virtuous soloists are featured with the Orchestra every season as part of the plan to constantly develop the Orchestra.
During the last two seasons, ASO presented a variety of programs which included distinguished works, among which are: Orff's Carmina Burana; Dvorak's New World Symphony; Tchaikovsky's the Nut Cracker Suite; Schubert's Tragic Symphonies. Furthermore, a number of visiting conductors lead ASO, among these are: British Conductor Nicols Colon, Spanish Conductor Joseph Vicent; and Dutch conductors Jules Van Hessen and Lukas Vis. Also the Orchestra hosted a number of soloists from: Egypt (Dr. Inas Abdul Dayem, flute); Japan (Misako Osada, piano); Syria (Arax Chekejian, soprano); and Britain (Peter Donohe, piano), to name but a few.
Out of Amman Symphony Orchestra (64 musicians) comes the following ensemble:
• Amman Sinfonietta
• Amman String Quartet (Violin1, Violin2, Viola, Cello)
• Amman Wood Quintet ( Flute, Oboe, Clarinet, Bassoon, Horn)
• Amman Brass Quintet (Trumpet1, Trumpet2, Horn, Trombone, Tuba)
The National Music Conservatory (NMC) is artistically and administratively in charge of the ASO.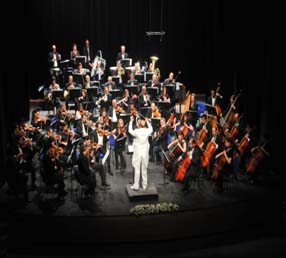 Amman Arab Music Ensemble (AAME)
Forthcoming Concerts
Monday, 6 June 2011 – 7:30 pm
Amman Arab Music Ensemble
Sakher Hattar, conductor
Iraqi night
Al Hussein Cultural Center – Ras Al Ain
Ticket price: JD 20 and JD 10


Wednesday, 15 June 2011 – 7:30 pm
Amman Symphony Orchestra
Mohammed Sidiq, Conductor
Marco Socias, Guitar (Spain)
This concert is co-organized by the National Music Conservatory, Greater Amman Municipality, the Embassy of the Kingdom of Spain and Cervantes Institute.
Al Hussein Cultural Center – Ras Al Ain
Ticket: JD 20 and JD 10